Pete Nelsen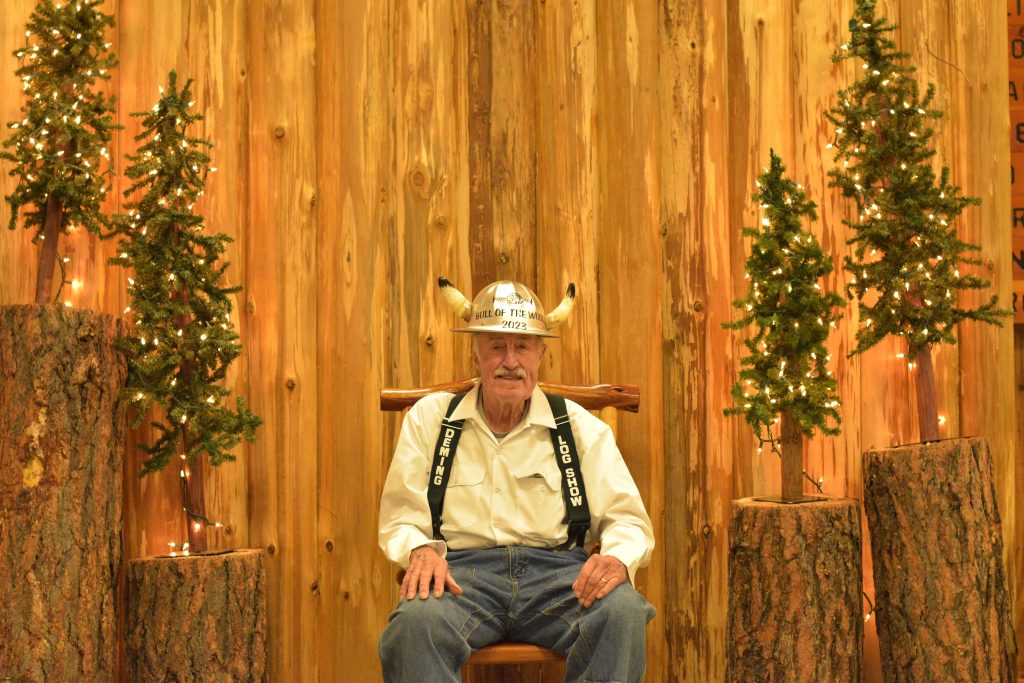 I am very honored to have been elected Bull of the Woods for 2023 and humbled to be added to the list of great men who have received this award in past years. I was born in 1940 and raised in Bellingham.
We were a big, active family of Norwegians which included my parents, 4 siblings and our 2 grandpas who lived with us after our grandmas died. Never a dull moment!
My family were commercial fishermen and I spent my summers in Alaska along with my  brother Dave and one of my grandfathers, working for my father on his seine boat, the "Little Yank". In 1958 the Navy came calling and I spent 2 years active duty and 3 years reserve. When I got out of the Navy, I could not find a job so my brother and I cut
firewood to make money.
How I ended up becoming a logger is that one day I spotted a truck hauling alder logs. I jumped in my carand followed it to see where it was going because the logs I was cutting  for firewood were the same size logs he was hauling. The truck ended up at Frazer Hardwood Mill. I went inside the office and met Mrs.Frazer. She told me how much they were paying for logs.
So, things went from there to my purchase of a 1930 Ford 1 1⁄2 ton flat bed truck I paid $250 for. My brother and I rigged up an A-frame to load logs and so my business began… "Pete Nelsen Logging". One day I was logging a job off the Mosquito Lake Road and this guy showed up looking for work…namely Thomas VanDyk. Eventually I  hired Thomas and he became my right-hand man! Over the years I was very fortunate to have a lot of good men working on my crew, namely Thomas, and his brother Gary and his father Manny VanDyk and many others.
I bought a truck from Brian Pederson, hauled logs on my own for a while and later sold it back to Brian. I hired Carmen Kyle to haul for me and later, on Shaw Island, his son Les hauled for me for a few years until I ran out of wood. I logged several jobs for Howard Hammer. During that time I got a call from Acorn Forest Products of B.C. Canada asking
if I'd be interested in logging on Shaw Island. So I went and looked at the property and talked to the owner, made a deal and bought the 100 acres on the island. I ended up moving to Shaw Island in 1974 instead of commuting back and forth.
Early on when the Log Show was getting started, I donated equipment for clearing the land, served as treasurer for 2 years, bought 2 sets of bleachers, and acquired the spar trees (we loaded the trees on my truck and Bill Blockley showed up with his antique steering trailer to help…that was a hairy situation)!
Being part of the early days was a pleasure and I participated and won trophies in many events at the show. In 1981 met and a couple years later, married my wife, Alice. We celebrated 40 years of marriage this past February. Together we've been blessed with a big family consisting of our siblings and their spouses and numerous nephews, nieces, and great nephews and nieces! When I turned 72 years of age I hung up my cork boots and branding hammer and became a full time salmon fishing guide in the San Juan
Islands. Alice and I enjoyed vacations in Alaska, Hawaii, Mexico and Costa Rica but stay closer to home now…mainly heading east of the mountains to our fruit orchard we own with our nephew Tye.
Now days my wife and I enjoy crabbing, shrimping, fishing, gardening, spending time with family and friends and just plain relaxing.
Again, I am honored to have been elected your 2023 Deming Log Show Bull of the Woods!
See photos of Pete and his life…